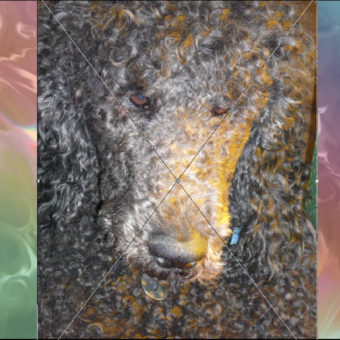 Spirit and life memories of Mak still soar in my heart.
My grieving is not over. His memories continue because his earthly spirit was a large presence in our home. I still watch so I do not bump him in the middle of the night if I get up and I watch to see if he is running towards me so I won't be knocked over in his joy. And tears flow when I am aware in the spirit sense he has moved away from me. I was startled at how quickly his life journey ended and his spirit passage to the rainbow bridge occurrred. Whatever his last magnificent jump was, it killed him—his stomach twisted (bloat or gastric torsion) and the presentation of his situation was not as we had seen before. Mak was my eleven-year-old wild boy, filled with humor and jokes and pranks upon his human family. He was a broad-chested strong male standard poodle who could run like the wind and jump over anything in his way.

The process of creating the "Healing Postcard" which can be done in any artistic media (paint, pencil, clay, beads, music, dance) brought closure and clarity. And even when the autopsy report came back confirming what we saw on the x-ray – I was okay.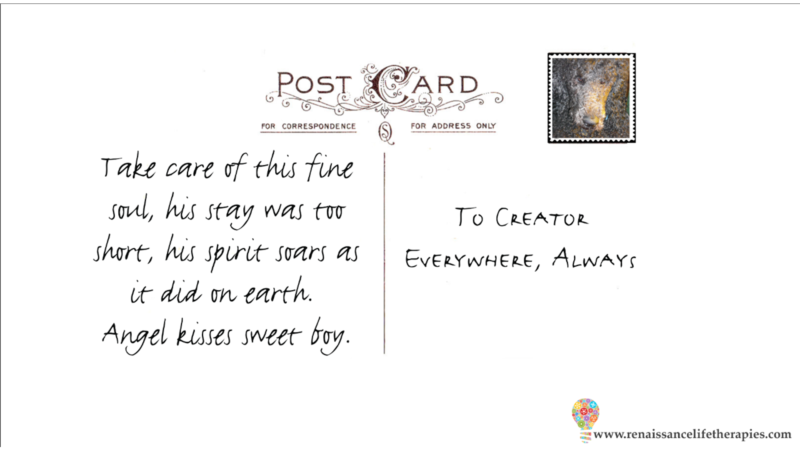 Photo 1 – HEALING POSTCARD
Healing postcard back asking for Angel's kisses for a beloved fur-son.
Dealing With Grief and The Journey of the Rainbow Bridge
"Final Peace" is the bursting forth of the spirit into life
and the merging of life into the spirit returning to forever.
Thank you for this project as I stepped through grief with a Healing Postcard  – Arts Therapy – Arts Therapy For Self Healing (Part One)
a class available on Udemy.com by Libby Seery – Founder of Renaissance Life Therapies
 Artist's Name: Jodee Kulp
Lecture Title: Healing Postcard (Lecture #35)

Title of My Work: "Final PEACE"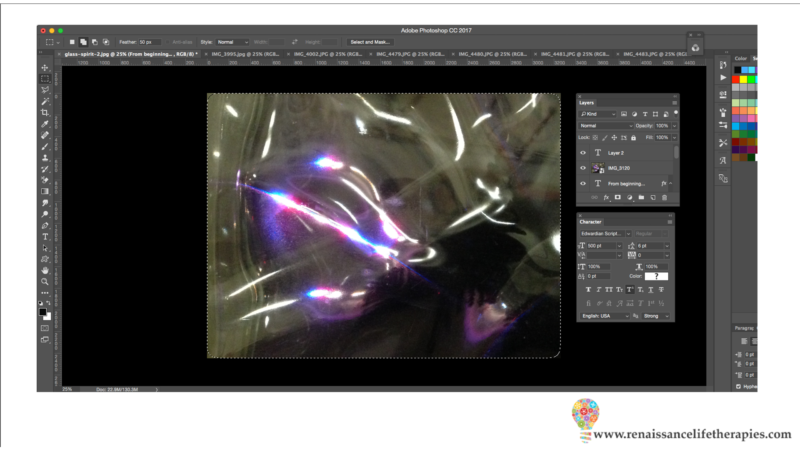 Photo 2 – MATERIALS
I chose to use digital media and Adobe PhotoShop as I already had pictures I could blend into my vision. Two days ago, very unexpected our beloved Makone of Knarlwoods ran over the Rainbow bridge. He was a loving, active, and wild guy in nature and a loving and calm presence among the people he so loved. He was beloved.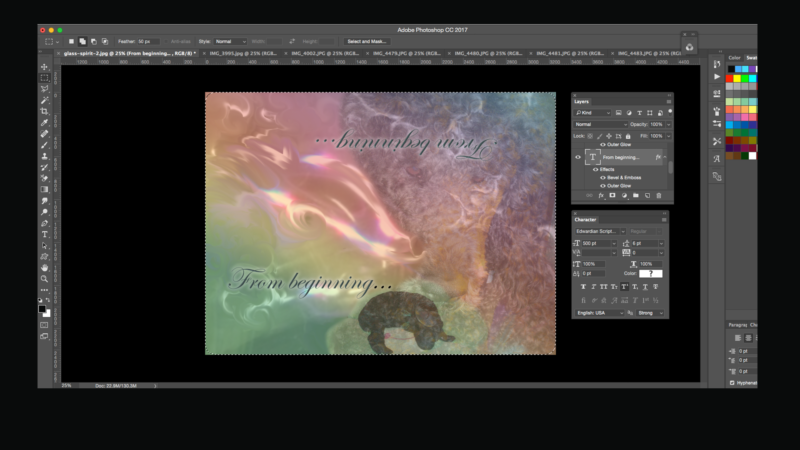 Photo 1 – DIGITAL PRODUCTION
Reality as I understood it had departed and faded. Less than 48 hours ago he was vibrant and running in ways I could only dream of moving. That reality has since faded and the final PEACE appears quickly to me – in a blink of an eye. I have lived enough life that to understand that PEACE you must rest in the process. And that process has a life of its own and there is no full hiding in the logic of the mind because of the breath of the creative breezes through like a cold north wind on a winter's day.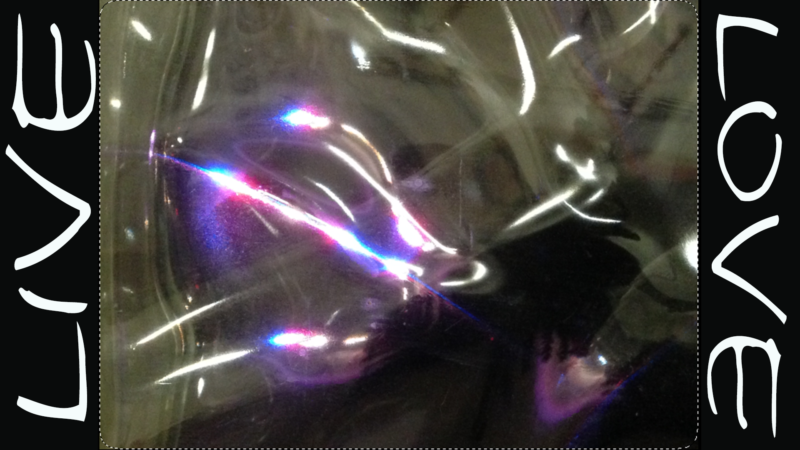 Photo 3
ORIGINAL GLASS PHOTO – CAR LIGHTS FROM STREET REFLECTING INTO GLASS BLOCK
I took this pictures years ago while putting my dog training supplies back into a dark storage room. The lights of the cars on the street glistened upon and into the blocks of glass like a holiday tree and I was captivated watching the light move in and away from the glass. The light was alive and it mesmerized me. It was a life-captured moment and I took a number of pictures to remember the dance.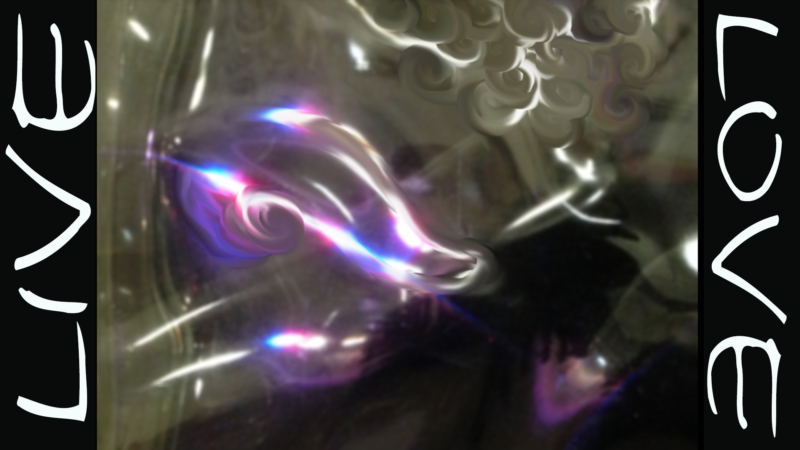 Photo 4
CREATING FUR FINGERPAINTING IN THE HIGHLIGHTS –
It was soothing to move my fingers in the manner I would have twirled his fur – he had the best fur. Knobby and course yet soft and twirling. He loved me running my fingers in raccoon touches along his neck, around his eyes, and down his massive chest. He loved warm and heavy panther and leopard on his strong muscled being. He nuzz-nuzzed to encourage me, do not stop, life is short, embrace it in its wholeness. Love life with abandon. Carpe Diem – Seize this day – this very day is yours to take – it is your gift of the present. There are balls and cars and naps to take—Let's go—LET'S go—LET'S GO-NOW!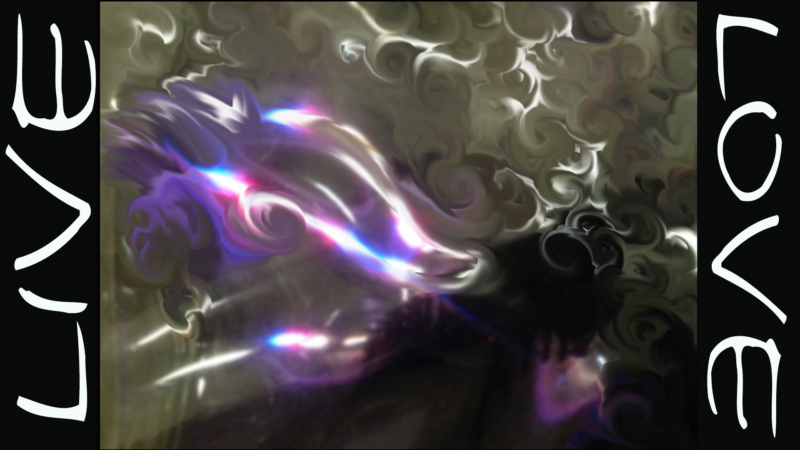 Photo 5
FINGER PAINTED HIS MANE AND MORE FUR –
His lovely standard poodle mane needed the kind of expression his spirit held. Makone ran like the wind like his father, but he harnessed in some control. He was a prankster and jokester and laughed with dog jokes I had never encountered. He made me look into his world, with his eyes, to understand the depth of his humor – his dog life – his spirit.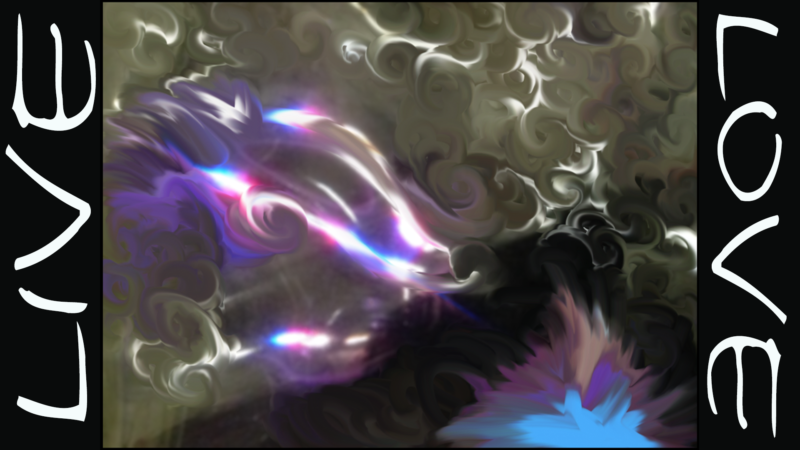 Photo 6
ADDED SPIRIT FIRE –
The spirit fire light welcomed him to his next beginning as quickly as to how on earth he welcomed himself into my prayer life. From a slumbering dog sleep he'd awaken and come to be connected as I connected to something he understood better than I.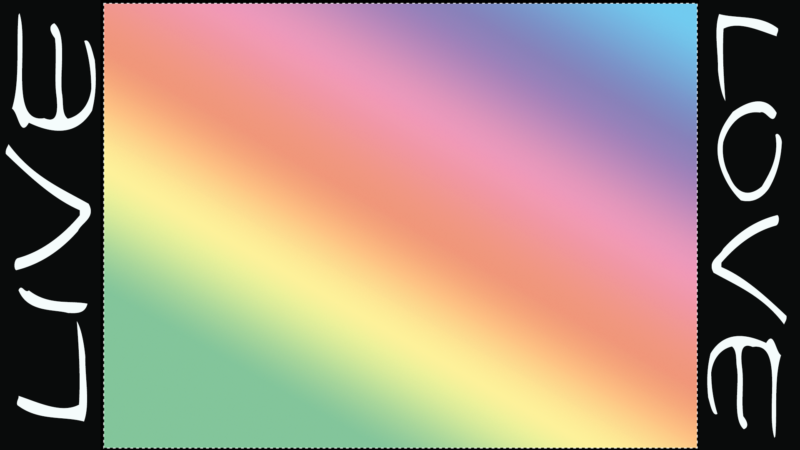 Photo 7
ADDED THE PROMISED RAINBOW
And the blanket of the rainbow's spirit separated the dark from the light.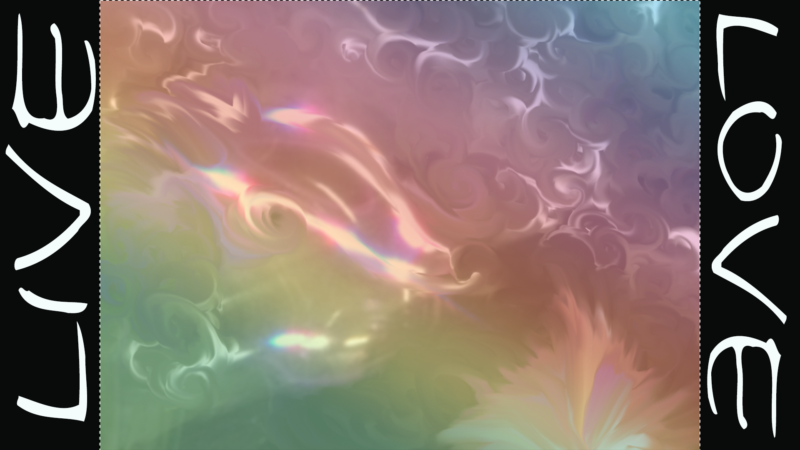 Photo 8
MERGED RAINBOW INTO SPIRIT PAINTING
And he chose PEACE. His beating heart stopped. And with it, the precious lifeblood ceased dancing in his body, ceased running from head to toe and tail to head. There is power in that blood and then…. the beating stops…. the warmth….lets go. It LET'S GO like he loved so much.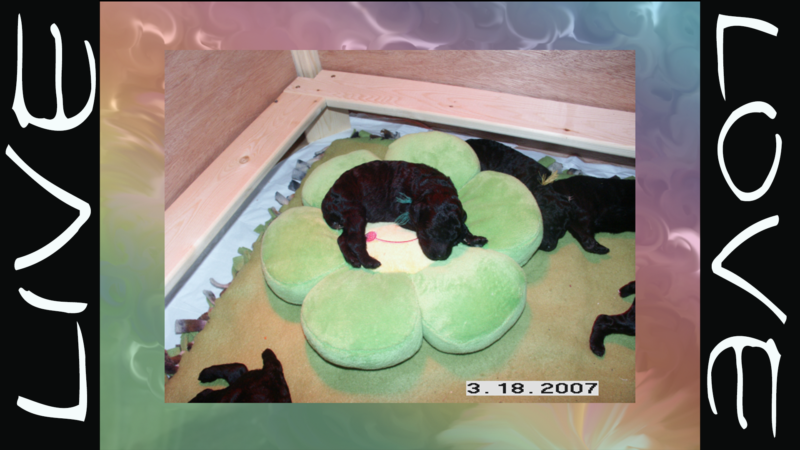 Photo 9
PICTURE AS A 5 DAY OLD NEONATE
And I remembered holding him at hello. Before his eyes and ears had opened. Before his mama had licked him clean. Feeling the little beat of his heart – the little beat of his coming to earth spirit.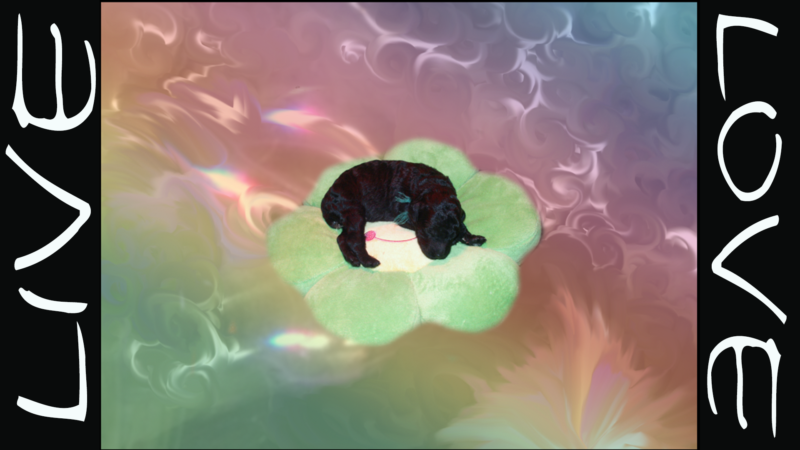 Photo 11
FLOATED NEONATE ON THE SPIRIT COLORS
And those memories floated one inside of another – the mighty tiny hunter carrying the pheasant wing, the jumper of agility over my summer potted plants, the dogwoods where only a proper dog would eliminate unless of course, it was… does a bear poop in the woods… dogs do. And they also pee the highest and the longest and on top of all the others who piddle first. He waited. The maleness of him in all of his strength and weight and muscles so toned. He watched. For hours sitting. Seeing how people and the neighborhood works, he knew the squirrel's nest and the rabbit's hovel and as long as they remained on the other side of his fence, they were patiently observed. He was the King—a lover of his people, never a starter, always a finisher.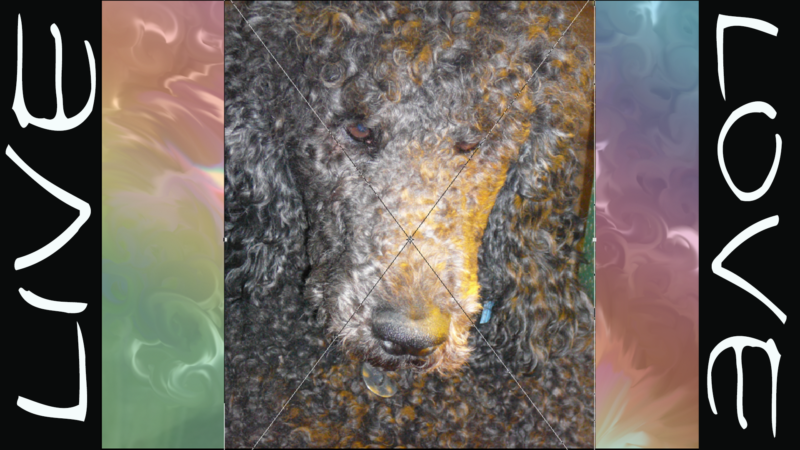 Photo 12
PICTURE OF MAKONE –
Perhaps you see the strength of his character. Whenever I prayed he arrived to lie next to me and put his paw on my body. When life got too chaotic, he simply sat with a paw on my arm, a muzzle on my leg. If I had worked to many hours – he was ready for a game of ball. And that moment was the present – right now – right NOW – RIGHT NOW! To continue working – I needed a detour of laughter into his big space – he knew – renew your mind with play – pay attention and play with me.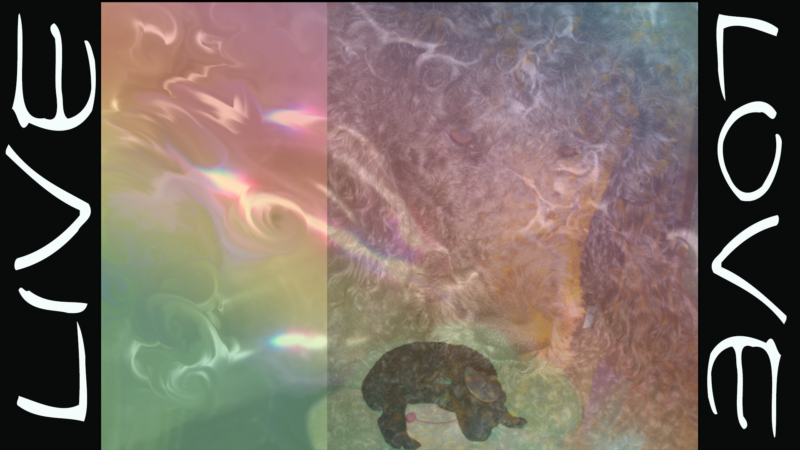 Photo 13
MAKONE BLENDING WITH SPIRIT COLORS
Letting go.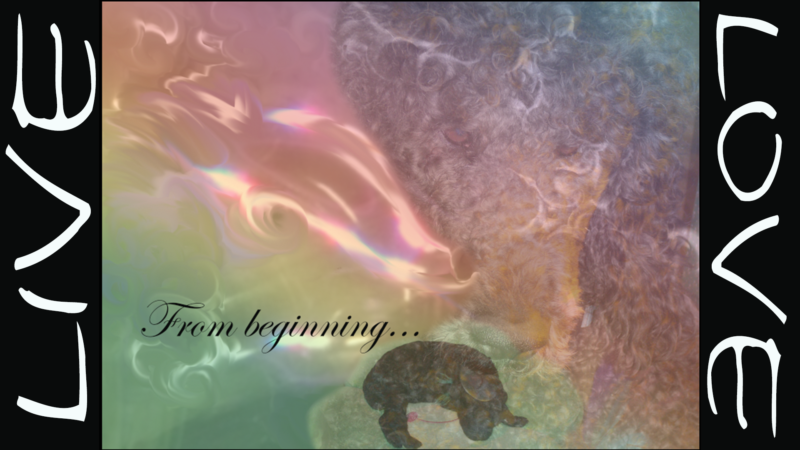 Photo 14
MAK-BLENDS
And I think, how can humankind even begin to understand another beginning when it seems that the door has been closed on loving a life of another, of running and jumping and eating together? Of touching and hugging and nuzzling? Of laying together on a big pillow by warm fires as winter winds blow. Of splashing water and mud and all that life brings to each other's lives. Of cleaning up the messes, and reordering the chaos and dancing in delight? How?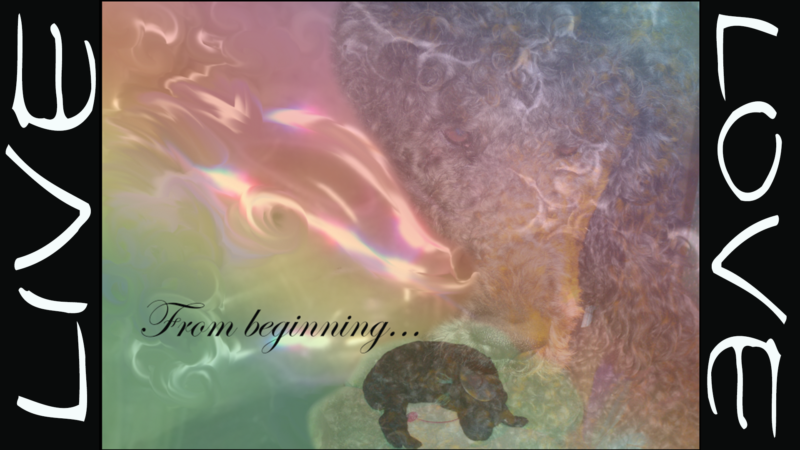 Photo 16 – (Blends)
CROPPED MAKONE
Thinking about when I held him at hello, wet and bloody at his birth and I was curious in this painting — what was this next place – what was this next step?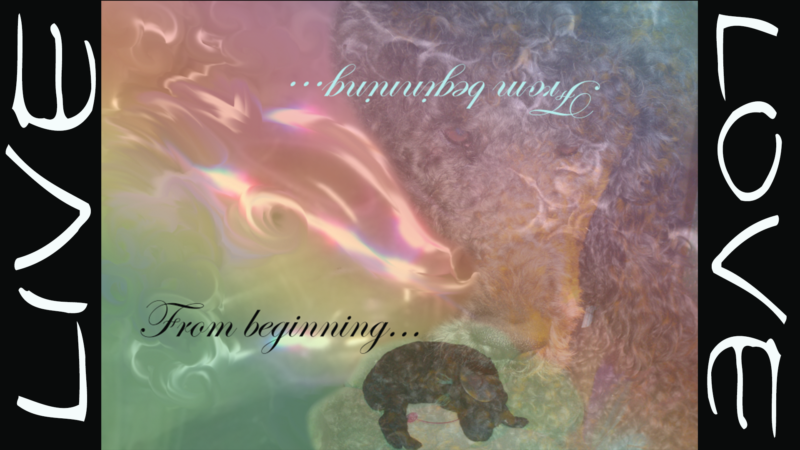 Photo 16 (Beginning)
ADDED BEGINNING
And I felt in my spirit-heart that life was never a real ending, it was a NEW BEGINNING, not just for him, but also for me. And when he had departed, he left behind his family of others and each of them had just as vibrant of life as he had. Each creature is given that regardless our circumstances or challenges or earth troubles. That each person and each creature is surrounded by life-blood energy that exists for a blink. It is our present gift to embrace that – to honor that – to build relationships. And I looked at my new unknown fur-creature who had entered our home in the past month to be loved and nurtured and I realized for her to grow – for her to gain confidence within the beauty of her timidness, the strength and loudness of his character had stepped back.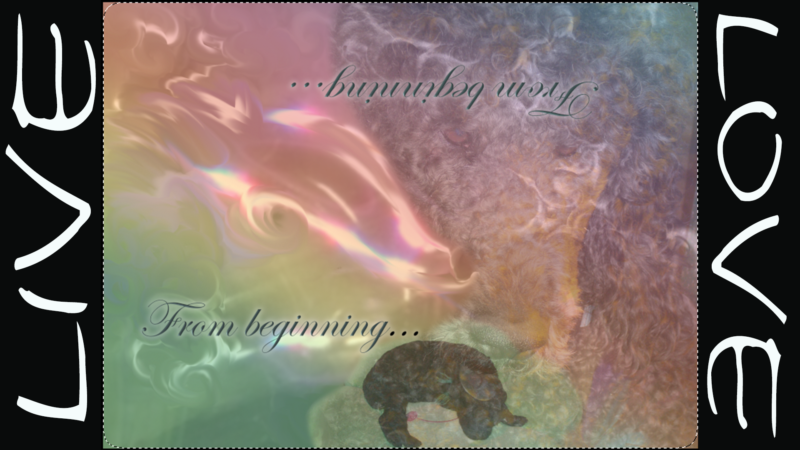 Photo 17
SOFTENED EDGES OF MAKONE TO BLEND WITH SPIRIT PAINTING AND ADDED FROM BEGINNING
It was from beginning … from beginning. And in this second beginning I did not have the key. One beginning to another beginning. This was not his ending. It was only his ending of memory-making with me. I could not hold his spirit it was time for him to go—his life was his alone. But I could hold on to his life gifts and the memories and I could keep them in my heart with all the other family and friends of fur and skin that had moved on. Life is a beginning of many hellos and it is a twilight of many good-see ya laters. And I believe that death has no hold on eternity and what is is and what will be will be and I felt a final PEACE.
POSTCARD FRONT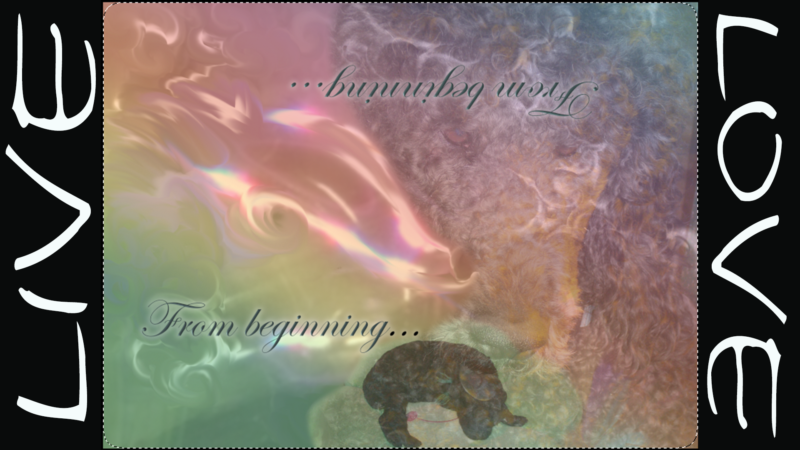 About Me:
I am a prayer painter normally in acrylic. The prayers I paint are healing prayers filled with love for those I pray for. Some have terminal illnesses, others have broken hearts. I keep paints and canvases ready and each painting speaks to those the gift is given. This is the first time I have created a prayer painting on the computer, It is the first time I have created a painting for myself. And keeping in my logic side it seemed more soothing for me to finger paint in pixels. It was interesting to me to watch the creation of the merging of the photos and colors, I do not think I could have gotten the glass effect with acrylics and I like it. I hope this also give peace and understanding to others in grief and healing.
As a dog trainer and researcher for persons with life challenges, canines are near and dear to my heart. The fur-creation canines are the bridges in my Expanding Mindz with Canines program. They are the connections for confidence and laughter and skill building. My big and lovely blue standard was running and jumping on Friday and was merged into the fullness of his spirit on Sunday. Bloat will do that the even the healthiest.
Prayer is a part of my waking day. Praise dancing is a part of my heart. Dance big boy dance—at the rainbow bridge—with your father, your mother, your sister and your brothers. Until we meet again — "Chuffa-Chuffa"
Where you can see more of my work: